6 Designs for the Bedroom Back Wall: Catalysts for An Aesthetically Pleasing Space
"A home is nothing until its walls utter a distinctive story". For a few of us, it might be a rented apartment, a 30-year-old legacy or a newly built contemporary adobe, claiming nothing but love. The colour of the interiors, the design on the back wall, the cubist aesthetics and the Nordic setup all sum up to confer a place we call our pride. Amidst all the collectives the decor shelves bestow us with, the industry's experts claim the answer to why design on the back wall is important and more intriguing. So before we officially hop into what styles and designs can make up back walls enchanting, let's delve into the significance first.
"The Designs on the Back Wall Depict Novelty"
Assume a house adorning the super glossy paint from an exquisite brand but carrying the shade monotony. How boring will it look despite spending a thousand bucks? That is where the response to why design on the back wall is important lies. The mindful investment in an accent wall, statement art piece or stunning wallpaper transforms the look even with the most prevalent hues. You can get your creativity imprinted while fetching an emotional connection. Also, if you have a plan for an instant renovation at a bargain, the modern bedroom bed back wall design can bring all the difference.
Keeping the underlying importance up straight, Check out the list of bedroom bed back wall designs that will bring life to your walls: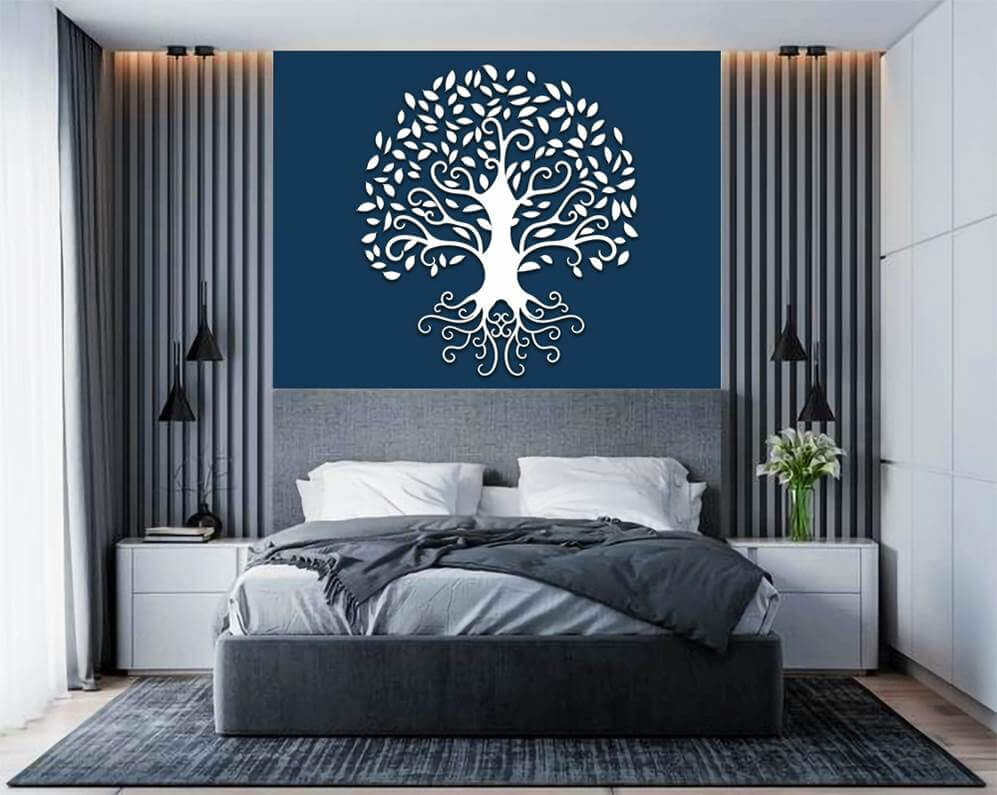 Accent Wall- Or you can call it a feature wall. The idea behind featuring a single wall is to smash the redundancy of the pattern. Generally, the modern bedroom bed back wall design is either constructed in a different shade than other walls or with distinct materials as per the latest fad. While some like to dab their bedroom into a rustic look, a stunning country classic, others prefer to shift back to the brick pattern or a two tonal shade wall. The in-fashion trend even includes embellishing the accent wall in the same colour yet different material.
Minimalist To the Rescue- If you are picky when it comes to your home, a minimalist design on the back wall can be your go-to deal. The clean lines, the hollow space, the contemporary lighting, and other objects all play an indispensable role. The supposition behind this monochrome look is to declutter and to have a set-up arduous to find. The majority of minimalistic patterns use a colour palette restricted to neutral tones in white and grey. Nevertheless, you can have darker tones but in limited dosage. Also, an upholstered headboard or textured wallpaper can look equitably gorgeous when styled mindfully.
Coastal For a Beachy Vibe- If you are a Thalassophile (an avid ocean lover ) and desire a similar ambience in your home, try having a coastal design on the back wall of your bedroom. And this can be achieved by hanging driftwood, circular woven baskets, rope mirrors, ocean frames or wallpapers conferring designs that display a similar environment. The seagoing bedroom back wall designs not just aid in setting up a coastal home but ensures impending trends slay effortlessly.
Wooden Bed Back Wall Design- The artfully mastered wooden back wall designs are a bit pricier but extremely distinctive than the back walls that magnify brick or plaster. The designed panels in Scandinavian, curved waves upon plywood, panelled shafts, or botanical features provide a luxurious touch. Also, consider complementing the wooden bed back wall design with pendant lights, hanging plant pots, and dropping oblong lights to feature a striking look that stuns many.
Ready To Install Panels- Whether you are in a hurry to get a makeover of your bedroom done or want to act sustainably, these panels are a blessing. Besides assuring an effortless implementation, they look classy and royal. It is a one-stop solution for your economic needs that runs gracefully without further remodelling. There is a scope to get the customization done that matches the theme of your home without digging a large hole in your pockets.
Lit It Up With Mirrors and Distressed Frames- The age of everything looking perfect and novice has almost gone. Indeed, the antique is the new contemporary. And, therefore distressed frames and wall arts that give bohemian vibes are on the go like forever. Apart from electing the frames of your choice, you can have ropes or embroidered mirrors that instil a dramatic look. Moreover, if you still crave that perfect lighting in your bedroom and your affinity for lighting is a bit overwhelming, a complete Led light design on the back wall can appeal significantly.
Wrapping It Off
"Home should be an anchor, a port in a storm, a refuge, a happy place in which to dwell, a place where we are loved and where we can love~ Marvin J. Ashton". And when we value it so much, why can't every nook and cranny be perfect? Lively interiors not only add life to the home but also to our souls. And the design on the back wall is a sentiment hard to define. If any of the above ideas caught your fancy, feel free to enquire at s2244839.saturnwp.link to quench your thirst. By turning your dream home into a reality, we aesthetically integrate craft with creation.